'Our customers are mothers, but they're also still women': Skin care brand Talm founder shares growth plans after funding boost
French prestige maternity skin care brand Talm has just closed its first round of funding and founder Kenza Keller has revealed her expansion hopes, as well as shedding light about the challenges of formulating for this consumer group.
Talm (an acronym for 'To All Mamas') has carved out a niche as the first prestige-positioned beauty brand dedicated to pregnant and postpartum women.
It currently has a range of four vegan, organic, natural and Ecocert Greenlife-accredited products that were specially created to support women before and after childbirth.
It has also just closed its first round of funding, with the co-founders of skincare brand Caudalie, Mathilde and Bertrand Thomas, taking a minority share in the business.
Formulating with a toxicologist, midwives and scientists
Talm's founder Kenza Keller was a former marketing director for fragrance brand Byredo, so already knew a thing or two about beauty products. But it was only when she was pregnant that she spotted the gap in the market for luxurious yet rigorously tested products that were specially designed for pregnant, postpartum and breastfeeding women.
"It was difficult to find ingredients I could trust and rely on," ​she says. "I wanted to simplify the offer and formulate the products I needed and had been searching for."​
Keller spent over three years painstakingly creating the products Talm currently offers, using a 'blacklist' of ingredients to avoid and working closely with a toxicologist, midwives and scientists.
"I spend a lot of the budget on testing," ​she shares. "That's why I only offer four products right now, because it's expensive and time-consuming to do this and to get the products approved by the various authorities in Europe too." ​
The four pillars of Talm
For Keller, the brand is based on four pillars: safety, efficacy, sustainability and pleasure.
"We are safety first with a strict formulation policy and a 'blacklist' of ingredients we don't use that goes way beyond EU regulations​," she explains.   
Efficiency and efficacy are also paramount, as is being environmentally friendly. The brand minimises its use of plastic – the bottles are made from glass and packaging sleeves are made from corn waste. "We track sustainability through the whole supply chain," ​she shares. "Our products are made in Aix-en-Provence and we go there every six weeks​."
Last but not least, when formulating Keller considers the pleasure factor and sensorial experience for the women who are using her products. For Keller, there is no reason why products can't be safe and beautiful.
The fragrance dilemma
Some maternity beauty ranges deliberately avoid using scent because strong smells can be overpowering to pregnant women, plus there are the safety issues surrounding the use of certain essential oils for pregnant or breastfeeding women.
After much consideration, Keller made a decision to use scent in a responsible way and to choose aromas that are delicate but still present. "I was pregnant myself and very nauseous when I formulated," ​she explains. "I live by a flower shop and noticed that the fresh scent of green stems calmed my nausea, so I chose that kind of fragrance, as well as the smell of fresh cotton too." ​
Everything was well-thought through. Keller was aware that using a small amount of scent was necessary to create emotion for the user when they tried the product. But she also sourced food-grade natural ingredients to ensure they are safe for breastfeeding. She worked closely with a perfumer in Grasse and created a natural formulation charter.
"For the scent, it's all about concentration," ​she explains. "I used 0.10%, which is a super-subtle scent and more compatible for women. I was also mindful not to interfere with the smell of the mum for the baby."​
Growing at a triple-digit rate
Talm has an active social media community and Keller believes that this has been a key element in its success so far. "The launch of the brand was a delayed by Covid," ​says Keller. "But this worked out well, as it allowed me to have conversations with potential consumers on social media and see what they wanted."​
Talm is now growing at a triple-digit rate. Keller is excited to have the expertise of Mathilde and Bertrand Thomas to draw from and has regular meetings with the duo. "Being a solo founder, it's incredible to have these experts/mentors on board," ​she says.
The company started as a direct-to-consumer online brand and ecommerce is still a major channel. It's currently available in 10 European markets and now focused on growing organic retail in France. It has just launched a limited-edition popup at Galeries Lafayette Haussmann and is also available in selected retailers that have similar brand values, such as clean beauty prestige retailer Oh my Cream!
Next on Keller's agenda is the launch of a full facial skincare range. "I've been working on it for two and a half years," ​she shares. "It's a range of organic products to address specific needs such as tiredness, skin hydration and suppleness." ​
The brand has also recently branched out into offering at-home massage treatments using its products too. It currently only offers this service in Paris, but plans to roll it out in six more French cities in September, as well as Brussels in Belgium.
"​We have a huge opportunity now as we are the only brand that addresses motherhood in this specific way,"​ says Keller. "Our customers are mothers, but they're also still women and we don't want to forget about that too."​
Blog Post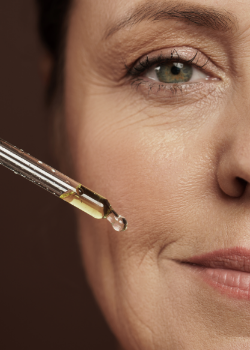 Seeing is believing: Supporting the skin microbiome
Delve into the power of the skin microbiome and the rise of probiotic and postbiotic cosmetics for healthier skin.

Read Now