Make some 'shroom: Why wild mushrooms may have potential cosmeceutical applications
A Portuguese study has singled out two wild mushroom species as a new potential source of natural compounds with applications in the cosmetic industry.
While macrofungi have been studied for their nutritional value and medicinal properties and wild mushrooms contain numerous beneficial bioactive compounds, their biotechnological application in cosmeceuticals and nutricosmetics has not been studied extensively.
For instance, the edible wild mushroom Butyriboletus regius is rich in phenolic compounds, tocopherols, citric acid and antioxidants, while Ganoderma lucidum has been found to possess antibiotic, anti-HIV, anti-metastatic, anti-tumour and anti-viral properties.
The seasonality, difficult cultivation of some wild species due to their symbiotic associations, difficult access to these mushrooms and correct identification of their species are some possible reasons for the lack of studies on the application of mushrooms for purposes outside of gastronomy.
Cream of the mushroom crop
As such, researchers from University of Trás-os-Montes and Alto Douro conducted a study to evaluate the phenolic profile and antioxidant, antimicrobial and cosmeceutical potential of eight species of wild mushrooms collected from Portugal: Butyriboletus regius, Ganoderma lucidum, Inonotus hispidus, Lanmaoa fragrans, Pisolithus tinctorius, Suillellus luridus, Suillellus mendax and Xerocomus subtomentosus.
The dried and ground mushrooms were extracted using ethanol and an ultrasound-assisted extraction method and characterised according to their phenolic composition, antioxidant capacity, antimicrobial activity and cosmeceutical potential.
The researchers then wrote that of the eight mushrooms analysed, Inonotus hispidus (I. hispidus) and Pisolithus tinctorius (P. tinctorius) "stood out for their high content of phenolic compounds, high antioxidant capacity and anti-hyaluronidase activity".
In terms of antimicrobial activity, both mushrooms were found to be effective at inhibiting bacterial growth and killing bacteria, especially when it came to Gram-positive bacteria. However, Lanmaoa fragrans (L. fragans) possessed the strongest antimicrobial properties among all the extracts.
Of the eight mushroom extracts, only P. tinctorius was able to inhibit activity from hyaluronidase (an enzyme that breaks down hyaluronic acid in the body) by around 95% at a much lower concentration than those of the other extracts.
Based on this, the researchers wrote that for the first time, "it was demonstrated that hydroethanolic extracts of wild mushrooms could be attractive natural anti-ageing agents, since they prevent hyaluronic acid degradation by inhibiting the hyaluronidase enzyme, thus retarding the skin ageing process".
The researchers also noted that several species of macrofungi were currently used in different cosmeceutical formulations "as a source of natural bioactive compounds to confer on the products antioxidant, anti-ageing, anti-wrinkle, skin whitening and moisturizing effects". Considering the results, I. hispidus and P. tinctorius "stood out from the others in all the evaluated parameters, being good cosmeceutical candidates".
As such, the study reported that cream formulations containing I. hispidus and P. tinctorius saw improved antioxidant activity, indicating that both mushroom species could be "proposed as a new potential source of natural compounds with application in the cosmetic industry". The researchers also attributed the beneficial properties of I. hispidus and P. tinctorius to their phenolic composition — particularly their specific pigments.
Mushroom for more research
The researchers observed that wild mushrooms were "good candidates as new sources of natural compounds for application in the cosmetics industry", noting that in the present study, I. hispidus and P. tinctorius were "demonstrated to be a good example of this potential". At the same time, they highlighted L. fragrans as "suitable for microbiology applications since its antibiotic activity obtained the best results among the species studied".
However, they further stated that some of the mushrooms evaluated in the study were "poorly investigated". As such, "the results presented in this investigation are important findings for the applicability of wild mushrooms in several functional areas, and enrich the current knowledge in the field of macrofungi".
Source: Applied Microbiology
"Antioxidant, Antimicrobial and Cosmeceutical Potential of Wild Mushroom Extracts"
https://doi.org/10.3390/applmicrobiol3020040​
Authors: Tânia Martins, et al.
Blog Post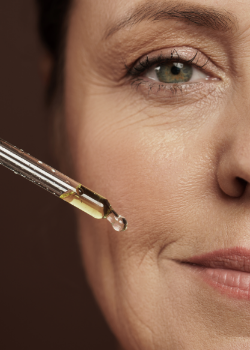 Seeing is believing: Supporting the skin microbiome
Delve into the power of the skin microbiome and the rise of probiotic and postbiotic cosmetics for healthier skin.

Read Now