Doubling-up: Laser therapy and cosmetic gel combo may be safe, effective for comedogenic skin
Laser therapy combined with cosmetic gel application could be a safe, effective alternative to traditional treatment procedures for people with comedogenic skin, say Czech researchers.
Comedogenic skin is prone to developing comedones, which are the primary features of acne. Commonly known as blackheads and whiteheads, they occur when the skin's pores become clogged with dead skin cells, oil (sebum) and other impurities. These clogged pores then create an environment where bacteria can thrive, leading to inflammation, redness, and the formation of acne lesions.
It is not uncommon for those with a hypersensitive skin type to choose cosmetic products containing comedogenic ingredients or to undergo long-term skin treatment with disinfectants that may result in the formation of microcomedones or comedones.
Cosmetic products designed for acne-prone skin should therefore not be greasy, should contain a high concentration of surface-active substances and should be non-comedogenic, non-allergenic, and contain photo-protectors and antioxidants. Hydrogels tend to be suitable vehicles for such products as they can hold a lot of water within their structure while still maintaining their shape.
Comedogenic skincare receives much less attention than treatment or skincare for more serious acne conditions and according to researchers from Tomas Bata University, "traditional therapies may have limited success with potential side effects. However, a suitable alternative may be cosmetic care complemented by "the effect of a bio-stimulating laser".
Prepare the laser
The researchers conducted a study to assess the biological effectiveness of cosmetic treatment combined with laser therapy using non-invasive bio-engineering methods on 12 volunteers with comedogenic skin. The study subjects underwent a 28-week application of Lasocare Basic 645® cosmetic gel containing Lactoperoxidase and Lactoferrin, in combination with laser therapy (also known as the Lasocare® method).
As an optically active substance, Lactoferrin can transmit light energy to the enzyme Lactoperoxidase. This triggers the oxidation of several inorganic and organic substances, which then have a significant inhibitive impact on bacteria.
The effects of the treatment on the volunteers' skin condition was monitored through non-invasive diagnostic methods, with amount of sebum, pore count, hydration, trans-epidermal water loss and pH used as the key parameters.
The study then reported that cosmetic treatment combined with the Lasocare® method "successfully improved" the condition of study subjects' skin and resulted in a "statistically significant decrease in sebum production". 
At the same time, they observed a decrease in the presence of acne-causing bacterium and acne itself, which could be attributed to the volunteers' skin acidity being adjusted and therefore, regulating their skin's moisture balance.
The gel and other skin cleansing products used in the study contained hydrating substances like glycerin and propylene glycol, which helped maintain a balanced water content in the outer layer of the skin. However, the researchers acknowledged that the increased evaporation values observed may have been caused by using a makeup remover before the skin diagnosis.
The researchers further noted that this particular procedure for comedogenic skin seemed to be "a suitable and safe alternative to traditional treatment procedures known from dermatological practice".
Recommendations and indications
The study concluded that the combined treatment with the cosmetic gel and laser therapy successfully reduced comedogenic lesions. By using non-invasive diagnostic methods, the researchers were able to understand the volunteers' skin better and choose appropriate cosmetic care procedures.
The treatment used in the study helped remove excess sebum while maintaining proper hydration and minimising water loss from the skin. Controlling sebum secretion is important in preventing more severe acne. The researchers recommended the treatment involving using a cosmetic gel not containing comedogenic ingredients, along with laser therapy and following a regular skincare routine at home.
The success of this treatment depends on the individual's commitment to and involvement in the decision-making process. The advantages of the therapy employed in the study include a relatively quick reduction in acne, support for skin regeneration, and maintaining the skin's optimal function. Further research in this area should, said the researchers, aim to discover more effective skincare methods to address the early stages of acne and prevent recurring conditions.
Source: Gels
"The Effect of Cosmetic Treatment and Gel Laser Therapy on the Improvement of Comedogenic Skin Type"
https://doi.org/10.3390/gels9050370​
Authors: Jana Pavlačková, et al.
Blog Post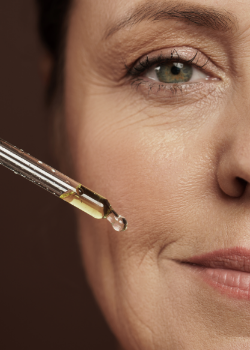 Seeing is believing: Supporting the skin microbiome
Delve into the power of the skin microbiome and the rise of probiotic and postbiotic cosmetics for healthier skin.

Read Now