IFF features upcycled ingredients in GENENCARE lineup
IFF's GENENCARE collection takes a previously low-value processing byproduct from sugar beet molasses and transforms it into four effective and sustainable active ingredients for personal care product formulation.

Ingredient innovation is a significant driver in growth and development in the cosmetics and personal care product manufacturing and supply space. Companies like International Fragrances and Flavors, Inc. (IFF), an American producer of fragrances, flavors, and cosmetic actives, are constantly working to produce ingredient options for end-stage product formulation that are derived from more environmentally friendly sources, have a lower environmental impact, and are otherwise more sustainable.
Recently, IFF launched its GENENCARE line, a collection of upcycled active ingredients sourced from sugar beet molasses, a side stream of sugar production. Three out of four ingredients in the collection were some of the first personal care ingredients to be upcycled certified by the Upcycled Food Association, and all the actives in the line can already be found in a variety of everyday personal care products.
To learn more about GENENCARE, which consists of moisturizing osmolyte GENENCARE OSMS BA, skin oxygenating OSMS MI, powder formulation OSMS CC, and microbiome-focused XL, we spoke with Carole Gherardi, Market Segment Leader, Personal Care, Health & Biosciences at IFF.
In our interview with Gherardi, we explored the background behind the collection's development and formulation process, the specific role upcycling plays in the production of these active ingredients, the ways in which GENENCARE is environmentally sustainable, and insight into plans for further development in this space.
CDU:​ Can you provide some background information about the GENENCARE ingredient collection and the formulation process for some of these hero ingredients?​ 
Carole Gherardi (CG): GENENCARE is our range of natural, upcycled active ingredients to improve product performance and sustainability profile in skin care, hair care, toiletries, and color cosmetics applications.
The GENENCARE OSMS range consisting of natural osmolytes – betaine (BA) and inositol (MI) – taps into the hidden power of nature.  Osmolytes are naturally present in the epidermis, and they play an active role in managing the water balance and retaining the water in skin.  
When the skin is dry, keratinocytes respond by increasing production of osmolyte transporters on their cell membrane, which results in increased uptake of osmolytes. This increased uptake restores cell hydration.
One such example is GENENCARE OSMS BA natural betaine. As a skin active and moisturizer, it protects proteins and skin cells from hyperosmotic stress.   
GENENCARE OSMS MI natural inositol is another example. Additionally, it helps to energize the skin for improved skin oxygenation and elasticity, fighting signs of skin fatigue. 
With moisturization being the fundamental claim for any skin care products, our sustainably sourced osmolytes are not only easy to formulate with, and they also serve as natural moisturizer for the skin and provide protection and sensory benefits in other applications. 
GENENCARE XL is our newest addition to the GENENCARE range. It is a prebiotic moisturizer that supports the microbiome profile of skin. We have seen the personal care industry shifting from viewing the skin as a static surface to one that is a dynamic and complex ecosystem of living microbes, and this product supports this trend.  
The GENENCARE OSMS range is extracted from European-sourced sugar beets (Beta vulgaris​) and highly purified by a crystallization process while GENENCARE XL is extracted from the catalytic hydrogenation of D-Xylose (wood sugar from a side stream of a paper production process without the use of any harsh solvents).   
CDU: What role does upcycling play in the production of GENENCARE ingredients?​ 
CG: The GENENCARE OSMS range is extracted from sugar beet molasses, which is the by-product of sugar production.  
IFF has developed a proprietary natural betaine production process that helps sugar mills increase sugar yields during the desugarization process. At the same time, that side stream of betaine molasses is upcycled into the GENENCARE OSMS range in the form of highly purified crystalline powders, betaine (BA), inositol (MI) and micronized betaine (CC), creating maximum value out of a product that was previously considered low-value.  
The GENENCARE OSMS range is one of the first personal care ingredients to be upcycled certified by the Upcycled Food Association (UFA). The Upcycled Certified certification process is a comprehensive, cross-coordinated effort between UFA and Where Food Comes From (WFCF), a leading third-party food and agriculture verification firm.  
A certified upcycled ingredient must contain ≥95% upcycled uniform diverted inputs by weight. As defined by UFA, upcycled ingredients (UIs) are single ingredient inputs not sold directly to customers that were originally produced for use in human food that otherwise would not have gone to human consumption, are procured, and produced using verifiable supply chains, and have a positive impact on the environment. 
GENENCARE XL is upcycled from a side stream of the paper production process from hardwood raw material. GENENCARE XL is produced according to the wood based circular economy (CE) concept, which is unique to IFF.  
The integration of xylose production with a pulp and paper plant takes advantage of the high carbohydrate content of the side stream and utilizes this side stream as feedstock. The xylose in this feedstock is already in a hydrolyzed form, and there is consequently no use of acid for hydrolysis.
Once xylose is extracted, the remaining side stream with reduced xylose content and reduced energy value is returned to the pulp and paper plant for energy production.  
CDU: Were there any challenges that needed to be overcome when formulating and producing the GENENCARE ingredient collection for product formulation? If so, what were those challenges and what solutions were developed to overcome them? ​ 
CG: As a majority of applications in the market are water-based, for example, skin care, hair care, and toiletries, formulating with our water-soluble ingredients i.e. GENENCARE OSMS BA, GENENCARE OSMS MI, and GENENCARE XL, is very easy. 
For formulators, it is also important to be able to formulate high clarity products and this can be achieved with ingredients of high purity and ease of water dissolution. For example, our GENENCARE OSMS BA, which is ninety-nine percent pure betaine can dissolve quickly in water to form a clear, colorless solution.
Ingredients with high clarity and purity help reduce additional steps in the formulation process where formulators may have to mitigate the appearance of the formulation.  This gives formulators the confidence that the product is pure.  
Unlike many other actives all ingredients in our GENENCARE range are also not sensitive to heat and hence can be formulated in a hot process such as in an emulsion where the production temperature can go up to 175 degrees Fahrenheit. 
CDU: Are there any future plans for further product innovation with the GENENCARE ingredient collection? ​ 
CG: We are constantly looking for innovation either by expanding our range with new products or new functionalities of our existing products by in-vitro and clinical testing to expand into new applications that we are not yet covering.  
CDU: In what ways are GENENCARE products sustainable, renewable, and good for environmental sustainability?​ 
CG: All the ingredients in the GENENCARE range are readily biodegradable, they have a natural origin index (ISO 16128) = 1, all the ingredients are aquatic ecosystem friendly based on ecotoxicity standard test. All of our ingredients have been certified cosmos by ecocert and they are nature approved. 
Based on our peer-reviewed consequential modeling, cradle-to-gate life cycle assessment done in 2021, we have also found GENENCARE OSMS BA to be carbon neutral. By improving our betaine production process, we have reduced our use of non-renewable energy by twenty-five since 2019. 
As compared to conventional xylitol extracted from corn cobs, the production of our xylitol has a lower environmental footprint: it emits significantly lower carbon emissions and uses lesser blue water and land. The hardwood raw material is sustainably sourced and certified by the Forest Stewardship Council (FSC) and Programme for the Endorsement of Forest Certification (PEFC).  
CDU: Anything else to add? ​ ​
CG: It is exciting to see how important upcycling is becoming for the personal care industry and personal care brands. It shows how important sustainability is becoming for beauty and personal care customers. 
Free Whitepaper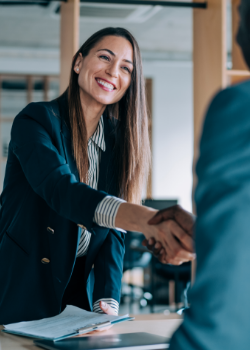 Probiotic Powerhouses & Pioneers: Top 10 acquisition targets for growth in the APAC region
Looking to expand your presence in Asia? Download this whitepaper today to see our top 10 picks for acquisition targets.

Download Now